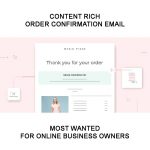 Content Rich WooCommerce Email Template Builder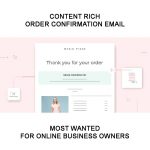 Content Rich WooCommerce Email Template Builder
$240.00 Inc.GST
$240.00 Inc.GST
Build your own email template and cross sell multiple items from each email you sent from your WooCommerce store. This is the MUST HAVE email marketing tool for online business owners.
Description
► Plugin works based on WooCommerce plugin. Version 5.0 and above.
THE PLUGIN FEATURES:
► Easily drag and drop elements to build and customize emails: – The user-friendly email template builder allows you to build professional and outstanding WooCommerce email templates.
► Email Elements – Add different elements (Basic, Woocommerce and hooks) to your email template with full shopping information of WooCommerce and users' information. The editing tab will show allow you to work directly on fast and effectively each element.
► Unlimited Number of Rows – unlimited rows can be added to the email template and include everything you need in the emails.
► Live Preview of Changes – visually observe emails by the preview, update any changes in the preview mode, integrate to see on the desktop, mobile.
► Send Test Emails – Check the email design before the real sending.
► Add Images to WooCommerce Emails – Add images in your email templates and make them attractive with banners, logos, featured images, etc.
► Display Dynamic Data with Placeholders – Displaying placeholders makes it easy to design templates. Placeholders such as customer name, site name, User name, Password, My account URL which will be replaced by real user/order data while sending the WooCommerce emails.
► Responsive and work perfectly on any devices.